Tackling logistics challenges with our partner Kuehne+Nagel
Building Healthy Futures together with our supply chain partner Kuehne+Nagel
In the lead up to IDA Foundation's 50th anniversary this November, we have been sharing stories from our global partner network over the past months. This month, we caught up with one of IDA's key supply chain partners, Kuehne+Nagel.
Nicolai Lippert (image below on the right), National Seafreight Manager for Emergency and Relief Logistics at Kuehne+Nagel, and Bart van Rooijen (image below on the left), Manager Supply Chain Operations at IDA Foundation, joined us for a Q&A to reflect on the importance of partnerships in the global health supply chain.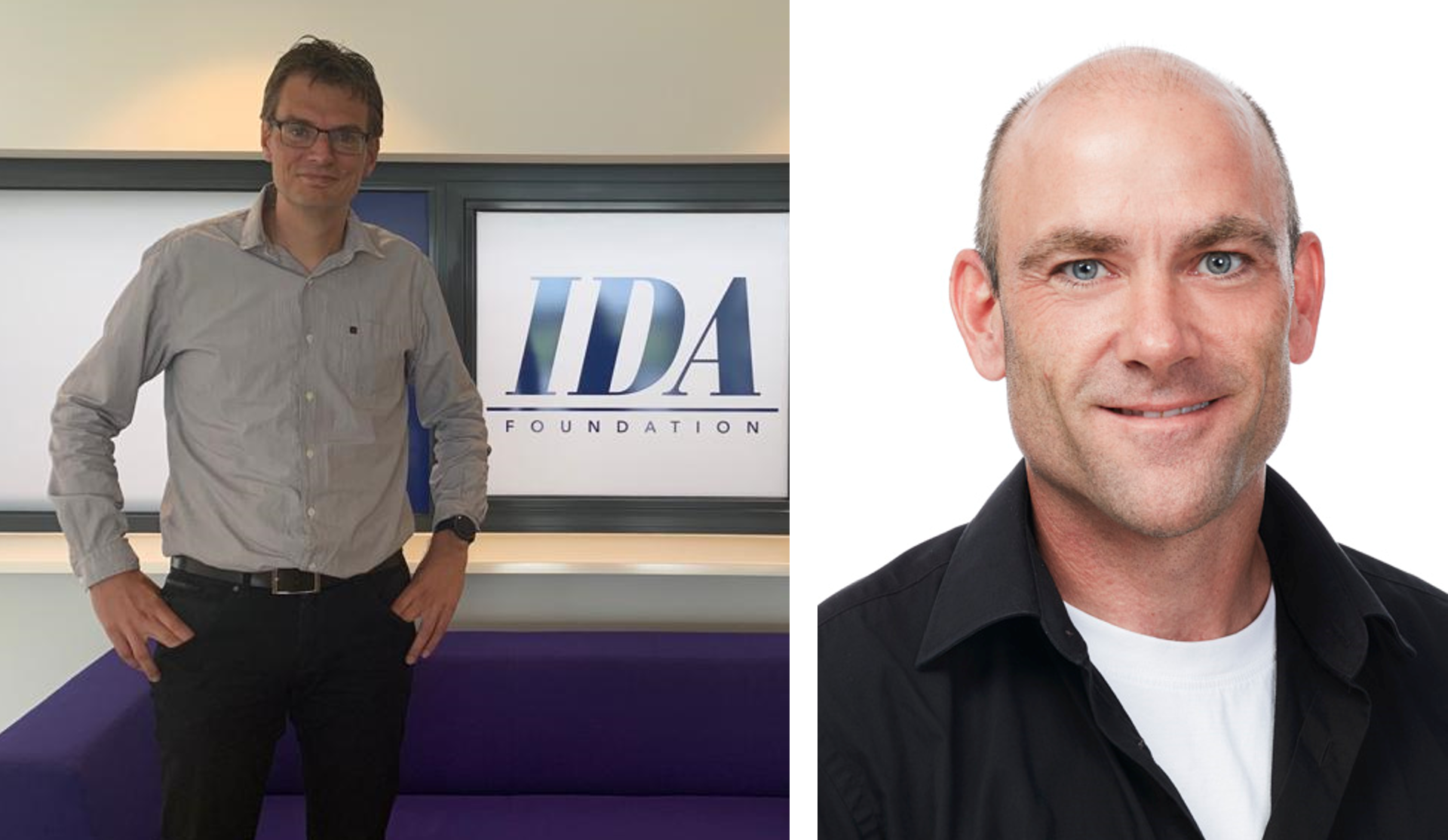 How long have IDA Foundation (IDA) and Kuehne+Nagel been partners? Could you describe the partnership from your perspective?
Nicolai Lippert: The partnership between IDA and Kuehne+Nagel goes back 10 years, and IDA Foundation has become a highly valued partner to Kuehne+Nagel with a shared goal of 'bridging the gap in access to medical goods'. We contribute to that by securing a solid supply chain, allowing medical products to reach those in need. For IDA we manage the logistics of several types of health goods, ranging from medicines and medical supplies to malaria bednets. In doing so, we use all transport modes: sea, air, and road logistics. We also handle warehousing for IDA's kitting activities in Dubai.
We have a dedicated team of six people for IDA based in the Denmark office, the seat of Kuehne+Nagel's global Emergency & Relief logistics team. Strengthening this team are colleagues from Kuehne+Nagel offices in other countries where we are active for IDA. We are in touch with IDA on a daily basis and together we display immense expertise and excellent teamwork.
Bart van Rooijen: Kuehne+Nagel has been a valued logistics partner for IDA for at least 10 years now. In terms of our logistics partners, we value partners which can assist us in multiple parts of our business, in all aspects of supply chain, and on a global scale. While our origin locations are mostly located in Asia and Europe, our destinations are mostly located in Africa and the Middle East, and often require additional delivery and customs services. We rely on experts in humanitarian logistics to ensure a seamless supply chain. Additionally, as Nicolai mentioned, we are also working with Kuehne+Nagel with a warehouse contract for our kitting activities in Dubai, building further on the existing partnership.
What has changed in the last 50 years in terms of supply chain challenges?
Bart van Rooijen: The supply chain of 50 years ago is almost incomparable with the supply chains of today. While the supply chain used to be very scattered and heavily paper-based, we are now used to digital supply chains with all parts of the supply chain sharing data. Being able to collect, analyse, and act on supply chain data has become absolute key. As a result, we have been requesting a large amount of supply chain data as standard practice from all our logistics partners. As an example, all our logistics partners, including Kuehne+Nagel, connect to our Wakeo Track & Trace application, enabling a real-time view of all our transports globally and moving towards a situation where we manage shipments by exception, as we can actively monitor delay issues, if and when they take place. Kuehne+Nagel stands out as a logistics provider with a high level of data quality, also providing us with additional visibility tools to monitor port congestions and other potential disruptions.
Nicolai Lippert: I agree with Bart's observations that the concepts of supply chain and logistics have changed drastically and the main developments relate to data and technology. Platforms for visibility and tailor-made solutions, as well as adequate data and even predictive analyses, are common requirements in 2022. Kuehne+Nagel has invested a lot in that regard, meaning that we can offer a lot of useful data to help our customers. As just one example, we have our sea explorer disruption indicator, which shows information about global port congestions. This is just one of our solutions, there are many more.
What are the current supply chain challenges, and how do you tackle those?
Bart van Rooijen: I have been active in the freight forwarding and logistics industry for the better part of 20 years now, and can honestly say I have never seen disruptions as severe as we've seen in the last two years. The COVID-19 pandemic was the catalyst for severe global market disruptions affecting all transport modalities. The initial impact was mostly on air freight as many flights were cancelled due to countries restricting international passenger flights. This had a severe and immediate impact on IDA's ability to get our products to where they were needed. We relied, in that first period, on Kuehne+Nagel's ability to quickly shift between various flight options and in many cases some serious "out-of-the-box" thinking, providing transport options using various modalities to get goods to where they were needed.
The supply and demand disruptions that followed from the end of 2020 onwards caused imbalances in the ocean freight market in a relatively short time-span. We were faced with a situation where carriers lacked capacity and many origins struggled with container shortages. For certain parts of our business, where we require to ship up to 500 containers to a specific country, we were faced with increasing backlogs. To improve the situation, we increased and enhanced the communication with Kuehne+Nagel and suppliers, ensured the implementation of forecasts and in some cases shifted origin ports. This resulted in real improvements in the situation, and we continue on this basis to this day.
Nicolai Lippert: The situation that Bart accurately describes has made the jobs of freight forwarders very challenging. Relying on years of expertise, solid partnerships with carriers, a global network and insights derived from our data, we try to help customers like IDA to overcome these challenges and can consult them on how to plan their shipments adequately. In these cases, regular exchanges are indeed vital within the partnership, and I am happy to hear that Bart experienced our close cooperation in this challenging time positively.
IDA Foundation delivers goods to customers all around the world, also areas which may be hard to reach. How do IDA and Kuehne+Nagel ensure that these essential goods reach those areas / patients?
Bart van Rooijen: As IDA's mission is to be able to deliver specifically to lower- and middle-income countries, we are very often faced with having to deliver to locations where infrastructure is lacking. Being able to offer destination services to even those locations is an absolute must and a reason why we select to work with humanitarian logistics experts and local agents. We know Kuehne+Nagel has a lot of experience in our typical destination countries and rely on local experts to perform the last-mile transport. Local knowledge and experience is an absolute key to finding solutions for these remote areas.
Nicolai Lippert: In Emergency & Relief logistics, we often have to deliver goods in remote areas with challenging infrastructure. Natural disasters and civil unrest can make the last mile delivery even more challenging. We require a lot of local information that we gather through a large network of agents and experts, including our local Kuehne+Nagel offices – which are a great asset – as well as external organisations. In addition, our team from Denmark frequently travels to the areas. Deploying staff on those locations helps them to better relate to the local situation, build local networks and expand their knowledge to succeed in their jobs.
The global transport sector also has a large environmental impact, and that remains a challenge in many forms. Organisations should have an established sustainability strategy and a serious dedication to achieve environmental goals.  How are Kuehne+Nagel and IDA addressing this?
Bart van Rooijen: Sustainability plays a major role as one of our strategic long-term goals at IDA Foundation. For supply chain specifically, this means we first need to focus on correctly measuring the carbon footprint of our entire supply chain and then look for possible solutions to mitigate this footprint. Together with Kuehne+Nagel, we are actively investigating improved methods of waste management in destination countries, alternative routings & consolidations to lower carbon emissions, and working with carriers for solutions related to sustainable fuel options.
Nicolai Lippert: Kuehne+Nagel has committed to the Science-Based Target initiative and aims to reduce greenhouse gas emissions in scope 1, 2 and 3 with 33% by 2030. Scope 3 refers to the transport of our customers, so their commitment to sustainability and willingness to work with us towards a greener future, is essential to succeed. Also here, data-driven insights play a crucial role in optimizing supply chains and to explore the sustainability impact of alternative transport modes, routes and carrier options as well as low carbon fuel solutions. We are happy that IDA is eager to explore these options together with us.
Looking ahead, what do you see as the key ingredients for successful partnerships?
Nicolai Lippert: To me, a successful partnership is mainly based on mutual trust and respect of each stakeholder's capabilities. In addition, establishing a strong joint strategy and communication line is key for a smooth cooperation.
I have been working with IDA since the onset of our partnership. From my perspective, practically all of those elements of a successful partnership have been present since the start. There are people in IDA that I have worked with for many years now, which makes it easy to have open and honest dialogues about potential challenges in our line of work. However, even at the beginning I felt that we could openly talk to each other and that we were all on the same page about what we want to achieve together.
What has perhaps grown over the years, is the element of trust. Kuehne+Nagel now knows the needs of IDA very well, and our teams will go above and beyond to meet those.   
Bart van Rooijen: I completely agree with Nicolai. Trust is absolutely key in a successful partnership, which is something that slowly builds throughout years of working together. I always mention to every (potential) freight partner that I value honesty more than anything else, and we get that from Kuehne+Nagel. Kuehne+Nagel is open and honest about their service level in various destination countries, and does not hide when they face a challenge, ensuring we can solve these together.
Thanks Nicolai and Bart for your insightful answers!
Photo in the banner is property of Kuehne+Nagel.