Bridging the gap
In today's world, essential medicines and medical goods still remain out of reach for too many people. IDA bridges those gaps so that health care providers have access to quality products at a fair price.
Our mission is being the vital link that provides access to medicines and medical goods to countries in need. To translate this mission to more specific actions and projects, we have defined our long-term goals and strategy in alignment with the UN Sustainable Development Goals (SDGs). By mapping the SDGs alongside IDA's mission and work, we have identified the five SDGs where we feel we can best leverage our unique capacity as a global supplier of health products, for a sustainable future.

These are SDG3, SDG5, SDG8, SDG12 and SDG17 (see the UN SDG website for more details on each SDG). These 5 SDGs combine the topics of global health, equal rights, decent work, environmental sustainability and partnerships, and provide a supporting framework which has allowed us to identify three key long-term goals for IDA Foundation's future.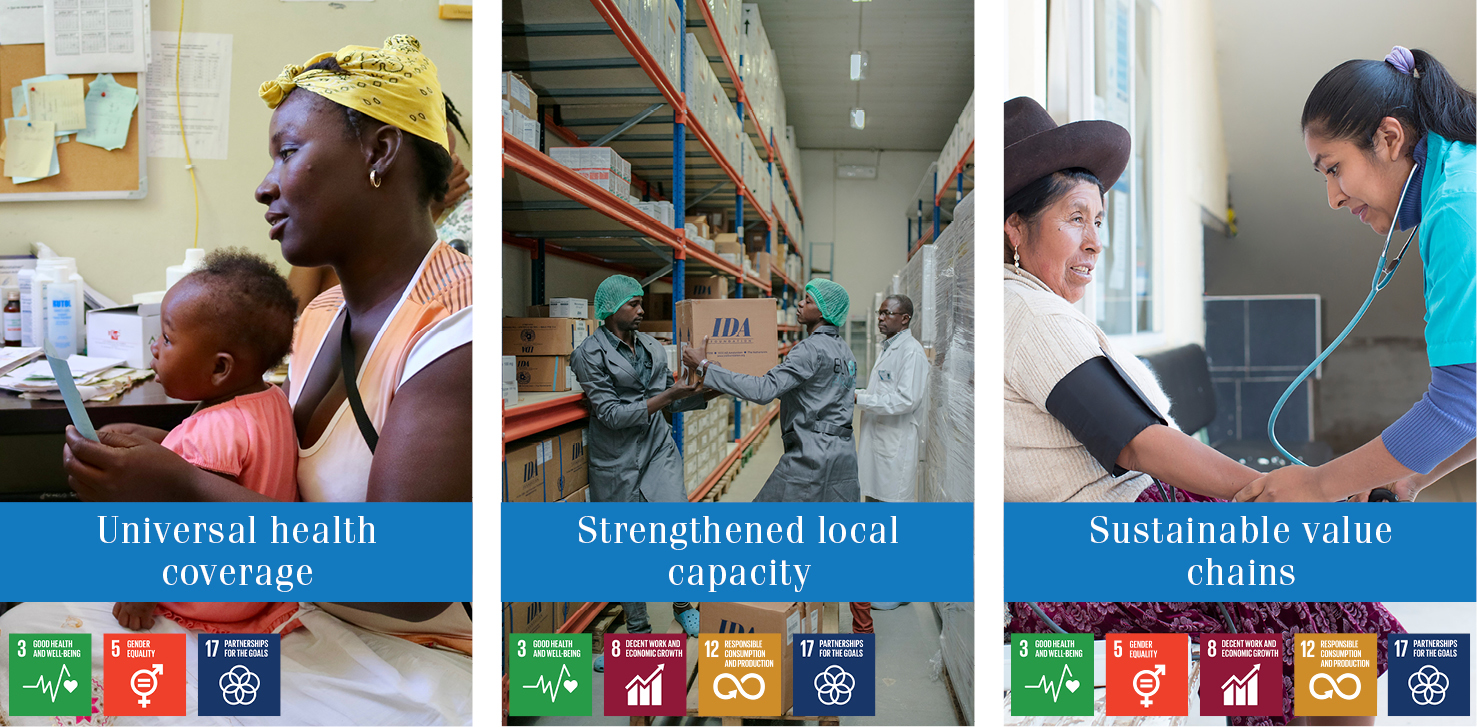 Our three long-term goals are:
Universal Health Coverage
With our mission of being the vital link in access to medicines and medical supplies to countries in need, IDA has largely incorporated 'SDG3: Global Health and wellbeing' into its strategic vision. We aim to maximise our impact through our role as a procurement agent for global health programmes such as the Stop TB/Global Drug Facility, Global Fund Pooled Procurement Programme, and the Global Health Supply Chain programme. Aside from these programmes, we respond to emergencies quickly and effectively. This allows health organisations to be equipped with standardised kits, such as emergency health kits (IEHK), or cholera kits, or large quantities of Personal Protective Equipment (PPE) in the current pandemic. In all we do, we always ensure that IDA is bridging a gap: whether it is in quality, access, affordability, innovation, or product portfolio, we always ensure that we are reaching patients with the right products in the countries that need it most.
Strengthened Local Capacity
Looking at the coming years, we expect the role of IDA Foundation will change. We foresee a strong rise of local partners in low- and middle-income countries in the next 10 years, and IDA aims to support these organisations through knowledge sharing, and capacity building amongst others. We are already working with over 30 local agents and distributors around the world and our focus will be on strengthening this network and relationship to support the strengthening of local health systems. In addition, we also look for local manufacturers in our destination countries that comply with our quality standards to supply essential medicines and supplies. Read all about our local network on our Local Services page.
Sustainable Value Chains
By aligning our strategy with the Sustainable Development Goals (SDGs), and the 5 mentioned above in particular, we are able to focus our impact on specific SDG targets. IDA's mission contributes to good health and wellbeing (SDG3) worldwide, while also positively impacting sustainable value chains, incorporating social (human rights & fair labour) and environmental factors. To name examples: we strive for (gender) equality at all levels, not just within our own organisation, but also through partnerships and advocating in our own supply chain, and we will work to reduce our environmental impact by minimising waste generation and reducing our carbon emissions. For more information on IDA Foundation's approach to sustainability, you can also see our Sustainability page.