Published on 2023-05-17 12:45:55
IDA Team
IDA Foundation: Impacting global health with values and purpose
Amsterdam, 17 May 2023 – At IDA, we are on a mission to improve access to essential medicines and create a sustainable and healthy future. With offices in the Netherlands, India, our global team represents various backgrounds and nationalities, fostering a vibrant and inclusive work environment.
Our (hybrid) office is not just a place of work; it's a place for collaboration. We believe in a professional and open atmosphere where employees freely approach each other for guidance, support, and knowledge sharing. We believe in the power of learning from one another, and our diverse team ensures a wealth of perspectives and experiences. But it's not all work and no play – at IDA, we know how to have fun too! We organise exciting outings and sporting events, forging bonds among colleagues who become lifelong friends. This trust and camaraderie form the bedrock of our unique IDA culture, making it a place our team loves to work.
Our commitments
IDA is committed to creating a great employee experience, and to shape that, we have defined specific commitments in these categories:
Career growth & learning: We understand the importance of career growth and offer ample opportunities for learning and development. From on-the-job training to mentorship programs, we invest in our employees' professional journeys.
Diversity, Equity & Inclusion (DEI): We value every individual, irrespective of their background, and strive to create an inclusive environment where everyone feels valued and heard.
Work-life balance: We believe in going beyond the standard norms and facilitate working from home options, ensuring our employees can strike a harmonious balance between their personal and professional lives. We understand that happy employees are productive employees, and we're dedicated to fostering their well-being.
Social impact & Environmental sustainability: At IDA, we don't just talk the talk; we walk the walk when it comes to social impact and environmental sustainability. Aligned with the UN Sustainable Development Goals (SDGs), we have identified five areas where we can make a significant difference. By leveraging our global reach and expertise as a supplier of health products, we aim to create a sustainable future for all.
So, why do our colleagues love working at IDA? Hear it straight from Our people. From the inspiring projects they contribute to, the growth opportunities they seize, and the friendships they forge - they embody the spirit of IDA and its commitment to global health. In these short videos, our team members explain their unique experiences at IDA.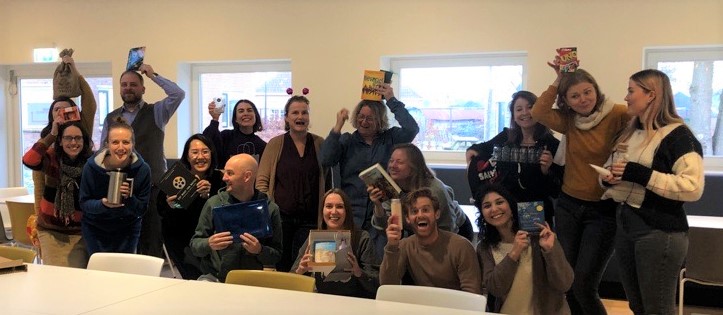 Some of our team members during a regifting game in our Amsterdam office.
Our values
IDA Foundation's organisational values reflect what we believe and help to direct our work and our actions. Our values were identified by staff in Amsterdam and India, through a collaborative process that encouraged participation. The result? A clear and inspiring statement of our values that will help us create the future we want for IDA Foundation. We strive to make our values visible in our daily work, in how we interact with our colleagues and partners and, most importantly, how we serve our customers.
Our strategy
Besides our values, we have defined our long-term goals and strategy in alignment with the UN Sustainable Development Goals (SDGs). By mapping the SDGs alongside IDA's mission and work, we have identified the five SDGs where we feel we can best leverage our unique capacity as a global supplier of health products, for a sustainable and healthy future. Both our commitments and organisational values resonate with our mission and [our long-term strategic goals]. We recognise that the well-being of our staff is essential to our impact on global health and for the achievement of universal health coverage. We are committed to being a good employer and we will keep sharing information about the perks and benefits of working at IDA.
Vacancies
Are you looking for a workplace that values career growth, embraces diversity, promotes work-life balance, makes a social impact, and cares about the environment? Check out our latest openings! Join us at IDA and be a part of a purpose-driven organisation that combines passion, values, and impact. Together, we can shape a brighter future for all.