Published on 2023-01-30 11:04:09
Empowering Haiti: Building local capacity for accessible quality healthcare
Strengthening local health systems in low- and middle-income countries (LMICs), involves improving access to quality health care, essential medicines and medical supplies. It also requires strengthening health workforces by increasing the number of health care providers and improving their training and development. Additionally, building strong partnerships between public and private sectors, as well as civil society organisations, is crucial to ensure access to quality health care services.
Partners In Health
With strengthened local capacity being one of IDA's long-term goals, we want to highlight a partnership with one of our longstanding customers, Partners In Health (PIH), whose focus is on strengthening public health systems.
They are founded based on the belief that everyone deserves quality healthcare.
Delivering healthcare to the world's poorest places, PIH's focus is on building strong health systems, as a key method to guarantee high-quality and dignified care. Amongst trained staff, operational health facilities, this also requires medicines and health supplies. Over the years IDA has been supplying PIH with large amounts of essential medicines and medical supplies, including HIV medicines and testing supplies and first- and second-line tuberculosis medicines to various health facilities.
University Hospital in Mirebalais, Haiti (HUM)
Following Haiti's devastating earthquake in 2010, the University Hospital in Mirebalais was opened in 2013, in collaboration with Haiti's Ministry of Health, to fill the gap for people who previously had limited access to health care. The 300-bed teaching hospital is home to residency programs in internal and family medicine, paediatrics, surgery, obstetrics and gynaecology, neurology, nurse anaesthetists, and emergency medicine.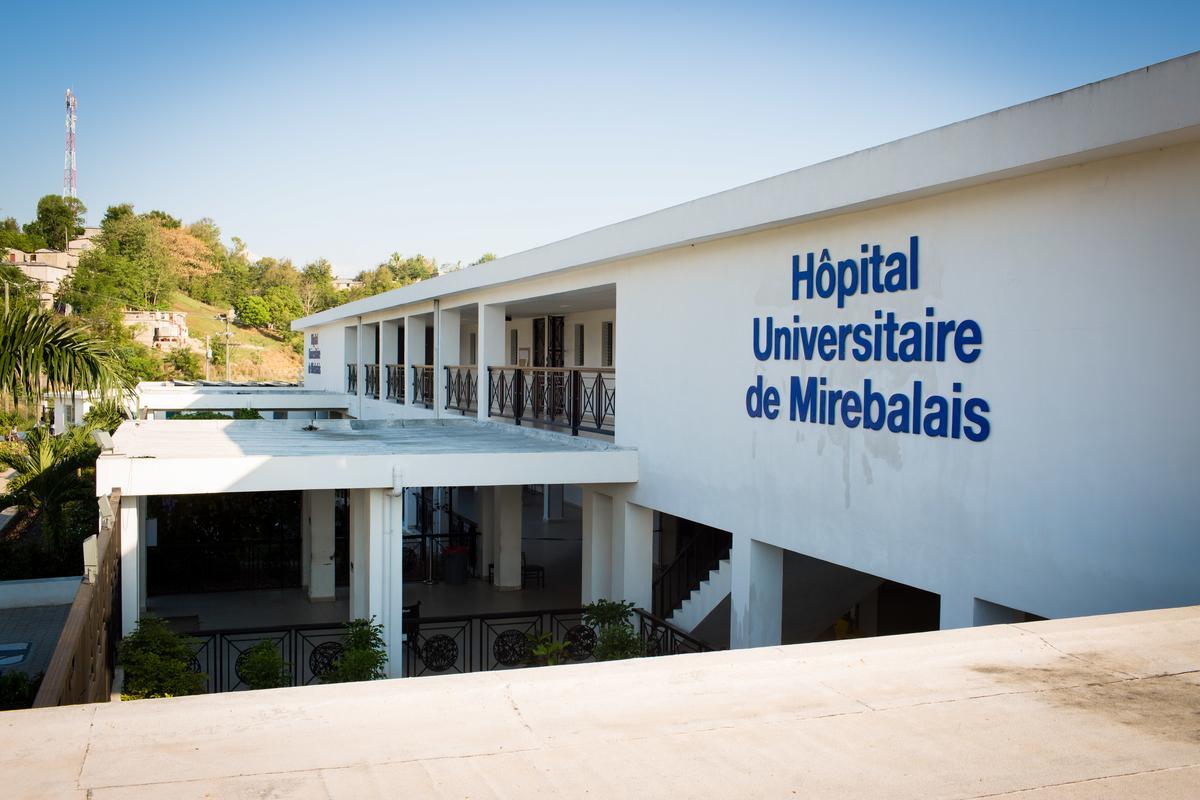 Two people who were involved in the set-up of HUM from the early beginning are Director of Pharmacy, Sauveur Marcel, and Managing Director of International Operations at PIH, Jesse Greenspan.
We asked them to reflect on their experiences over the past decade(s) and share their insights for the future of health in Haiti and other low- and middle-income countries.
You have built up a lot of experience in working in humanitarian response settings and complex health care structures. What were the main challenges when setting up the pharmacy and stock management at HUM after the earthquake in 2010?
Sauveur: In the beginning the main challenges for the pharmacy, aside from capacity building, assembly of the warehouse, and the implementation of systems and processes, involved the planning and forecasting for medicines and consumables. Oncology medicines especially posed a challenge because of the mixture of medicines available and setting up the right product portfolio to cover the oncology care needed for the prevalent types of cancer.
Jesse: We knew that opening HUM would push us to strengthen our systems around forecasting and distribution. While the hospital was under construction, our supply chain and medical informatics teams worked on new features for the supply chain management system OpenBoxes*. The new features we built for HUM facilitate the distribution of medications and supplies to each ward within the hospital, and also capture demand based on requests for what services are needed, rather than only looking at consumption, which can skew forecasts too low if there are stock outs and make it difficult to correct for those in the future.
It was challenging to stay on top of the increasing demand at the new hospital as patient volume increased, but we were able to use this new demand data to improve our forecasting and prevent stock outs.
* Open source supply chain management software system that PIH began building soon after the 2010 earthquake in Haiti to allow better movement tracking and stock utilising, and using this data for decision-making. The features built for HUM, are now also being used by PIH in Liberia, Malawi, Rwanda, Sierra Leone, PIH's US warehouses, as well as by other global health organisations and logistics companies around the world. More countries where PIH is active in will be added soon.
What has changed in the last 10 years in terms of supply chain challenges for HUM/PIH?
Sauveur: Implementing OpenBoxes for the pharmacy inventory management at HUM, setting up a unit system within the hospital, and having an operation system specialist on site, helped us to improve and professionalise our processes. Furthermore, having our own distribution centre in Port-au-Prince closely located to customs offices allows efficient handling of incoming goods which saves a lot of time. In addition it allows better inventory management and delivery of goods in all Zanmi Lasante sites.
Jesse: We are always aiming to improve upon what we've been doing in order to make the supply chain more efficient and better able to deliver items for patients when and where they are needed. So while we've made a lot of improvements, there is always more to be done. For example, using OpenBoxes has been transformative over the past 10 years, by having data to make smarter decisions. Now that we have this data, our challenge is to make sure we use it all to make the best decisions we can and to be as proactive as we can. Plus, there is still more OpenBoxes functionality that we want to develop to keep improving our processes. Another challenge is maintaining infrastructure and equipment as HUM and all of the facilities that we support age. This is an area that we'd like to invest in more and is critical for maintaining and improving the quality and dignity of patient care.
Also, in response to the supply chain challenges of the past few years, as well as the more recent unpredictability in terms of safety and operations in Haiti caused by political upheaval, we have renewed our focus on decreasing supply chain risk through diversification and redundancy for sourcing and logistics.
IDA has identified three long-term goals, being: universal health coverage (access to quality health products), strengthened local capacity and sustainable value chains. Looking at the current health landscape in low- and middle-income countries, where do you see the biggest opportunities for organisations such as IDA Foundation?
Sauveur: The biggest opportunity for IDA could be the sustainable value chains because it will be beneficial for IDA Foundation and customers in the long term.
Jesse: I see an opportunity for IDA and other private sector organisations to invest in local capacity for high quality manufacturing in low-income countries. The COVID pandemic illuminated this long-standing challenge; many countries are almost entirely dependent on importation for medicines, consumables, and medical equipment. When the borders closed in 2020, the health risks for patients and staff increased because the needed commodities were not available. To prevent this from occurring again, and to support the growth of local industries, I think it is important to invest in local manufacturing. Going hand in hand with this investment is also the laboratory capacity to test the quality of medications, reagents, and consumables like PPE, as well as the warehousing capacity to properly store the commodities to ensure their quality. IDA has valuable expertise to share in these areas.
Haiti has suffered from many climate disasters, from earthquakes to tropical storms. Over the years more focus has been put on climate change and its relation to emergency (health) response. How do you incorporate this in your long-term planning?
Sauveur: To be able to provide care to all possible categories of patients, in case of natural disasters, we make sure our preferred medicines list is up to date to cover the potential patients' needs and furthermore we have strengthened our internal health system to guarantee emergency preparedness.
Jesse:
Knowing that climate change is having and will continue to have the most devastating impact on the poorest communities around the world, it is in these communities where it is the most important to build strong systems to respond to health needs every day, including in emergencies.
In terms of emergency response itself, I think health system strengthening is the best emergency response strategy. When the supplies and the staff and the operating rooms and ICUs are already in place, the response can be immediate, rather than waiting for specific emergency response mobilisation. Especially in Haiti where Zanmi Lasante, PIH's sister organisation in Haiti, has established such a strong healthcare network; Zanmi Lasante staff have been first responders during many emergencies, from earthquakes to hurricanes to cholera outbreaks, including deploying PIH-procured supplies where they are needed most.

PIH is a founding member of Climate Accountability in Development, a new collective of health and development organisations. Our aim is to reduce the size of our overall carbon footprints quickly and effectively. Environmental impact is something we think a lot about in our day-to-day supply chain activities. For example, we try to procure reusable instead of disposable items whenever possible and emphasise good planning and forecasting not only because of the positive impact on patient care, but also because with good planning we can decrease reliance on emergency air shipments that are both expensive and harmful to the environment. PIH is also investing in solar power at many of our facilities.
With the many global health challenges, we believe in a collaborative approach to solving these. What do you see as the key ingredients for successful partnerships in building healthy futures?
Sauveur: Key ingredients for successful partnerships are partners sharing and mutualising their skills, such as discussing strategies and experiences, sharing equipment and exchanging staff trainings.
Jesse: I think the key here is for all partners to collaborate with the Ministry of Health to ensure activities and resources are strengthening the public system and are aligned with those strategies. This helps eliminate duplication of efforts and amplifies the identified priorities. So, coordination and collaboration, both between partners and with the local government, are critical.
We want to thank Sauveur Marcel and Jesse Greenspan for the their contribution and insightful perspectives.
IDA Foundation and strengthening local capacity
IDA is already working with over 30 local agents and distributors around the world and our focus will be on strengthening this network and relationship to support the strengthening of local health systems.

Over the past years IDA has been working on identifying local manufacturers that comply with our quality standards and who can supply essential medicines in various destination countries in Africa. For more information please visit our local services page.