Published on 2021-11-26 11:29:05
Michiel de Goeje retires, Bart van Osch new QA Director
Amsterdam, 25 November 2021 – This month, our QA Director Michiel de Goeje retired after 34 years of service at IDA Foundation. Bart van Osch, IDA's new QA Director, has been working alongside Michiel for the past year, to ensure a thorough handover of responsibilities.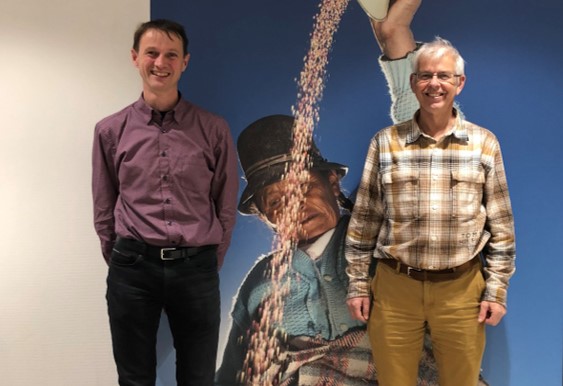 Bart van Osch (left) and Michiel de Goeje (right) in our Amsterdam office
Michiel completed his Pharmaceutical master's degree at the University of Leiden, and held several positions as a Pharmacist. This included three years of managing a hospital pharmacy in Zambia, where he saw first-hand how important it was to have affordable quality-assured essential medicines and medical supplies available in the health system.
Shortly after returning to the Netherlands, he joined the IDA Quality Affairs team in 1987, where he was largely responsible for setting up and designing IDA's Quality Affairs policies. Michiel saw IDA Foundation go from a small local team in Amsterdam, to an organisation with additional offices in India and China, and contributing to global programmes with major impact. Over the years, his own work has also brought about very positive change in global health.
As Director of Quality Affairs, he was a member of the management team and held responsibility for QA management in compliance with Dutch regulatory (GMP, GDP), ISO and other relevant WHO recommendations, such as the WHO Model Quality Assurance System for Procurement Agencies. Michiel was also responsible for regulatory filing of pharmaceutical products in IDA's destination countries, as well as establishing and implementing QA policies aligned with current regulations, always respecting IDA's mission statement. He was responsible for assessing our suppliers and dossiers of our wide range of products, including generic ARVs, which were all new 20 years ago. These generic ARVs ensured that treatment for HIV/AIDS became much more affordable to a large population.
Our Indian pharmaceutical partners recall Michiel's dedication and support in the 1990s, when the Indian Pharmaceutical industry was in its early phase, needing strict monitoring to ensure that finished formulations were up to GMP standards. It was Michiel's guidance and support on quality assurance that brought many Indian suppliers up to the international standards required, and opening up a huge number of quality-assured, affordable suppliers that would enable access to essential medicines in low- and middle-income countries. His role in this development was highly valued and has contributed to the strong relationships with IDA's supplier network.
Over the years, Michiel has evaluated and implemented organisational roles and responsibilities, directed and managed QA departments considering priorities and lead-times, performed GMP audits of manufacturers of medicinal products and audits in compliance to ISO 13485 of manufacturers of medical devices. He is a Registered Qualified Person for batch release as per EU guidelines and his research (some also in collaboration with WHO) has been published in many scientific journals, including the Lancet.
The past year Michiel has been working together with Bart, IDA's new QA Director, who brings a new and complementary wealth of knowledge and expertise from the pharmaceutical industry.
The team has benefited from the combined QA Directors, and while we are also sad to see Michiel leave, we welcome our new QA Director Bart van Osch whole-heartedly and look forward to this new chapter at IDA Foundation. Michiel will continue to work as an external advisor to IDA on specific projects.
A big thank you to Michiel for all his years of service, and welcome to Bart!