Closing anniversary year with successful event in Mumbai
Last week marked the 50th Anniversary of IDA. Following a successful event with customers and partners in Amsterdam in September, last week, we brought together IDA suppliers, employees, and other partners at our Mumbai supplier summit and celebration on November 25th. IDA Foundation's Wendy Eggen and Shree Rajwade acknowledged that our Indian suppliers have played a crucial role in making quality healthcare affordable over the past decades, by supplying quality generic medicines and medical supplies.

We started the supplier summit with the ceremonial lighting of the Diya by the IDA Supervisory Board members Stijn van Els and Mieke Damen, CEO Wendy Eggen, and IDA Mumbai's Leadership Mr. Shree Rajwade and Beena Singh.
To reflect on these achievements of the past decades, we invited Vijay Agarwal, Smita Holey, Deepak Arora and Dipesh Shah to a panel discussion which not only reflected on the milestones, but also looked ahead at the challenges and opportunities the coming years may bring.  Discussions focused on questions around universal health coverage in a rapidly changing world, the increasing demand for quality-assured local manufacturing in the African region, as well as the global health industry's role in working towards sustainable value chains. There were inspiring discussions which continued into the afternoon, when IDA's Iona Kora spoke about the importance of QA, Floor Toxopeus discussed IDA's sustainability strategy, and Daan Istha presented IDA's commercial outlook for the coming years.
Aside from discussion, there was plenty of room for celebration. With the upcoming retirement of IDA Mumbai's General Manager Mr. Shree Rajwade, we acknowledged his many achievements over the years, and thanked him for his contribution to IDA and the framework for our supplier network. He was joined by Wendy to celebrate the 50th anniversary, and together they cut our anniversary cake. This was followed by a flash mob: the IDA employees surprised our guests with an incredibly energetic dance, starting off the night of celebration with music, dance, and fantastic drinks and food. Thanks to all guests for their valuable contributions, support and wishes. We look forward to working with you all as we head into our next 50 years of IDA!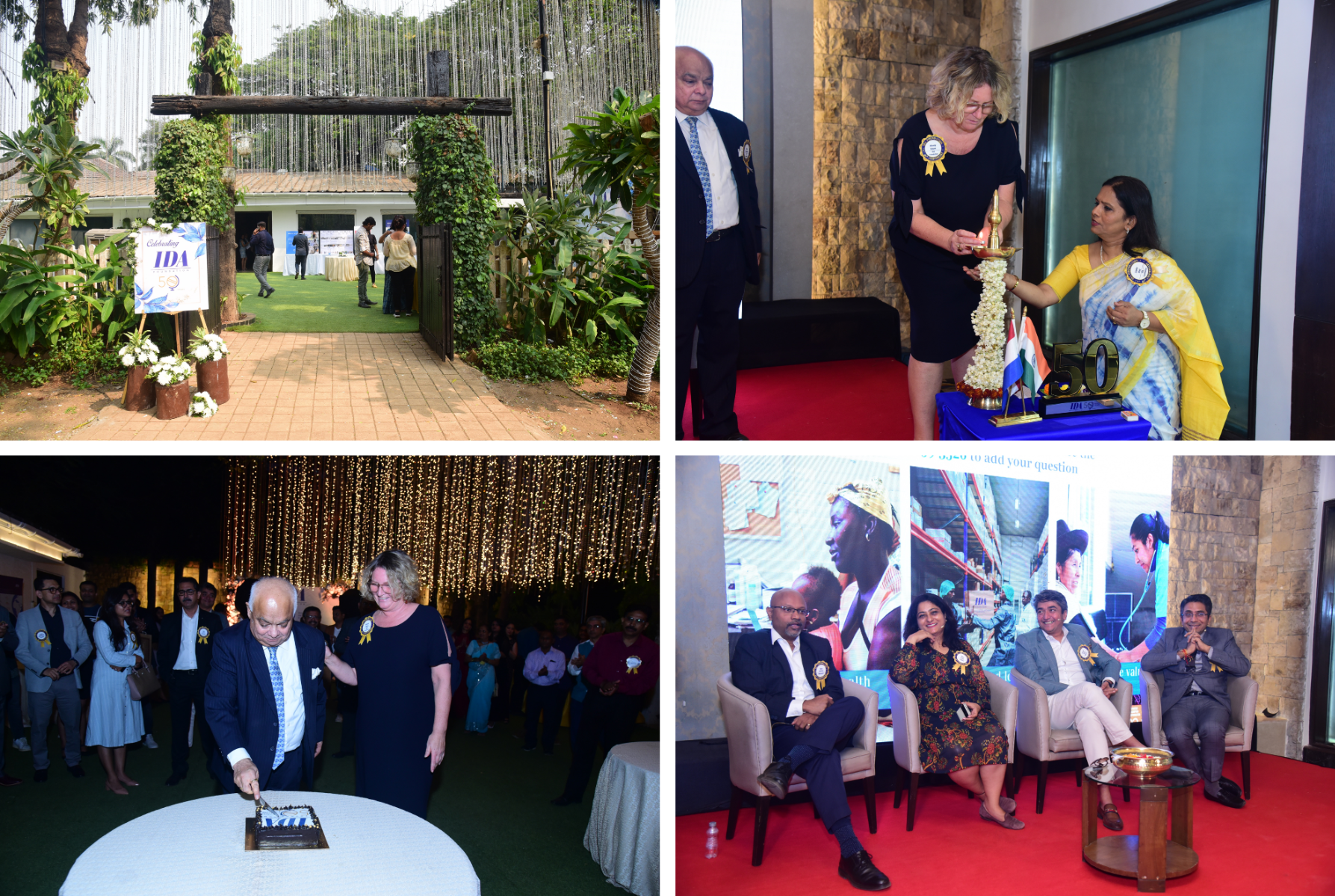 From top to bottom, left to right: Welcoming our guests in Mumbai, Lighting the Diya, Shree and Wendy cut the cake, Our expert panel Vijay Agarwal (Macleods), Smita Holey (Cadila), Dipesh Shah (Mepro) and Deepak Arora (Biomed).